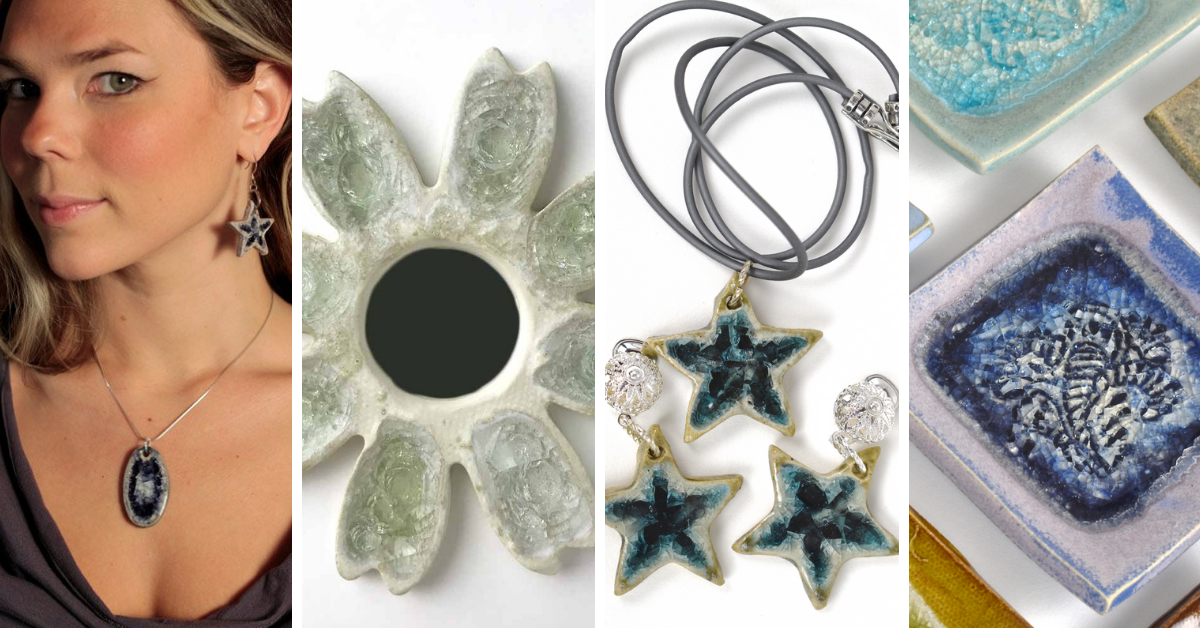 Crafted on the shores of the Pacific Northwest just north of Seattle, Washington, overlooking the glorious Salish Sea and Pacific Gulf Islands, the work of Paloma Pottery is as unique as the landscape which supports it. Nicole Whitney's eye-catching fused glass pottery designs are a testament to both natural beauty and sound ecological consciousness. Incorporating crushed glass bottles and jars otherwise bound for recycling plants, Whitney harvests the color and luminance of glass, transforming it into prized works of art. This inspiration shines through every aspect of the work.
Beginning with pottery classes in 1995, Nicole soon found her niche combining clay and glass, creating functional art for the home and garden, and providing affordable handmade gifts online since 2001. Always trying to find a use for things that may otherwise be thrown away, she was inspired to try and recycle glass into pottery. "It never ceases to amaze me, how things that may otherwise be thrown away can become art and transform into something not only useful but beautiful," says Whitney. "Though I currently live and work in Washington State, much of my learning was from my mentor, Liz Vigoda, in Albany, New York. Another mentor, the founder of the Body Shop, Anita Roddick, inspired me with her belief that social responsibility in business is just good practice and good business. I truly enjoy donating pieces to help raise funds for charities and nonprofit organizations. I can only hope to move people the way that so many have moved me."
Photos by Peter James Photography

Soul Portrait by Peter James, layered images tell the story of Paloma Pottery
The production line style work is employed for efficiency and consistency. This way we are able to pass savings onto you, and provide quantity discounts on bulk items and home purchases such as our popular glass cabinet knobs with free shipping!
Working off the hump allows for multiple pieces to be created from one single lump of clay. A pottery bowl is created and the lip for the crushed glass rim is being defined with a wooden potters' tool.
A pottery ring holder is born and texture is added to the piece to create an organic look and feel. One of our best sellers, these make excellent gifts for unique weddings, engagements, anniversaries or even yourself. In fact, many of our customers say it's best to just order two!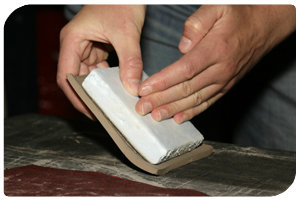 Hand building is another way of working with the clay. Where the wheel creates round symmetry, hand building allows for more freedom of shapes to be constructed. Using molds from found objects, edges are lifted for the glass soap dish. For more details on our handmade glass pottery faq's check out our frequently asked questions page.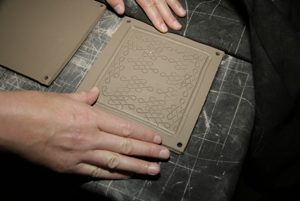 Square pottery tiles for a display unit are lying flat to dry on recycled canvas from local business, Cool Canvas. Reduce, re-use, recycled when at all possible is important for Paloma Pottery as a sustainable business.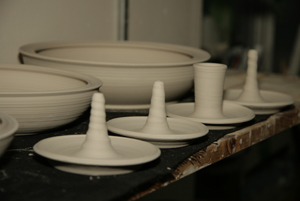 Pieces are allowed to dry before going into the kiln for the bisque firing.
Once fired, the bisque ware is stamped with "Paloma Pottery" using iron oxide and is ready for glazing.
Products are lined up, glazed and then the glass is added and loaded into the kiln. Textures and designs in the clay are achieved with natural and found objects (impressing or drawing with rocks, shells, etc.) giving an organic, nature-inspired feeling. These buttons are a special order for Texture Clothing, a local hemp and natural fibers clothing company.
The kiln melts the glass and fuses it to the clay and glaze.
Artist unloads the kiln and inspects the finished products. The fused glass surface created is smooth to touch and sparkles with profound rich colors and textures. Each piece is created to be a functional piece of pottery and art with as much versatility as possible. The semi-porous crackle glass surface makes the popular recycled glass soap dish shown below a great gift for both him and her.
Stock is built up for immediate purchase in the Paloma Pottery online gift shop. Delight in exploring the more than 50 items available now at Paloma Pottery's boutique.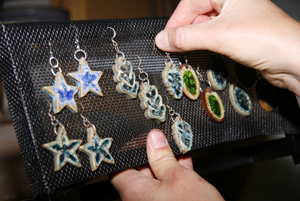 Paloma's sparkling glass earrings are placed on display for selling at art festivals. Displays are handmade from found objects and other recycled materials.
Crushed glass pottery tiles are made for tiling our mosaic wall mirror or sold separately. Our recycled glass tiles make a great backsplash and accent tiles for both kitchens and bath.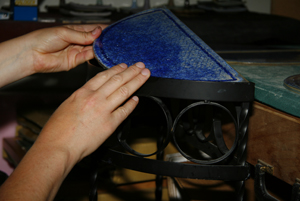 Wrought iron table with half moon shape tile. Glass pottery tile lays inside the table and removes easily for cleaning.
Paloma's signature recycled glass necklaces are placed on display and ready for purchase. Recycled canvas is also used in the final display unit, which is custom made by the artist. The recycling mission is consistent throughout all creative and business processes.